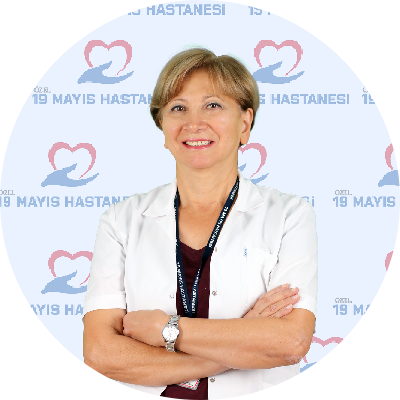 Uzm.Dr. Ümran Büyükkağnıcı
Biyokimya Uzmanı
Deneyimler
A.İ.T.İ.A ECZACILIK YÜKSEK OKULUNDA FARMASÖTİK TEKNOLOJİ ASİSTANLIĞI // ONKOLOJİ HASTANESİ

ANKARA NUMUNE HASTANESİ BİYOKİMYA ASİSTANLIĞI

ESKİŞEHİR DEVLET HASTANESİ BİYOKİMYA UZMANLIĞI

ZEKAİ TAHİR BURAK KADIN DOĞUM HASTANESİ BİYOKİMYA UZMANLIĞI

ORTADOĞU 19 MAYIS HASTANESİ BİO KİMYA UZMANI
Uluslararası Yayın ve Yazıları
Guney G, Sener-Simsek B, TAssessment of the Relationship between Serum Vitamin D and Osteocalcin Levels with Metabolic Syndrome in Non-Osteoporotic Postmenopausal Women.okmak A, Yucel A, Buyukkagnici U, Yilmaz N, Engin-Ustun Y, Ozgu-Erdinc AS.
Geburtshilfe Frauenheilkd. 2019 Mar;79(3):293-299. doi: 10.1055/a-0767-6572. Epub 2019 Jan 22.
Timur H, Tokmak A, Yucel A, Ali Inal H, Buyukkagnici U, Sirvan L, Danisman N.Diagnostic value of CA 19-9 in pregnancies complicated by spinal neural tube defects: a preliminary study.
Ginekol Pol. 2016;87(12):808-813. doi: 10.5603/GP.2016.0093.
Ersoy E, Ersoy AO, Yildirim G, Buyukkagnici U, Tokmak A, Yilmaz N.Vitamin D Levels in Patients with Premature Ovarian Failure.
Ginekol Pol. 2016;87(1):32-6. doi: 10.17772/gp/57839. No abstract available.
Korkmaz E, Cetinkaya N, Oz M, Ozgu E, Bas S, Isikalan M, Buyukkagnici U, Caydere M, Hucumenoglu S, Gungor T.The Possibly Reversible Isotretinoin Effect of Decreased Ovarian Reserve in Sprague-Dawley Albinos: Part I, Biochemical Analyses.
Gynecol Obstet Invest. 2017;82(1):72-77. doi: 10.1159/000445294. Epub 2016 Apr 13.
Oz M, Cetinkaya N, Bas S, Korkmaz E, Ozgu E, Terzioglu GS, Buyukkagnici U, Akbay S, Caydere M, Gungor T.A randomized controlled experimental study of the efficacy of platelet-rich plasma and hyaluronic acid for the prevention of adhesion formation in a rat uterine horn model.
Arch Gynecol Obstet. 2016 Sep;294(3):533-40. doi: 10.1007/s00404-016-4079-9. Epub 2016 Mar 29.
Oztas E, Erkenekli K, Ozler S, Aktas A, Buyukkagnıcı U, Uygur D, Danisman N.First trimester interleukin-6 levels help to predict adverse pregnancy outcomes in both thyroid autoantibody positive and negative patients.
J Obstet Gynaecol Res. 2015 Nov;41(11):1700-7. doi: 10.1111/jog.12799. Epub 2015 Aug 26.
Ozgu-Erdinc AS, Togrul C, Aktulay A, Buyukkagnici U, Yapar Eyi EG, Erkaya S.Factor XII (Hageman) levels in women with recurrent pregnancy loss.
J Pregnancy. 2014;2014:459192. doi: 10.1155/2014/459192. Epub 2014 Nov 12.
Ozgu-Erdinc AS, Cavkaytar S, Aktulay A, Buyukkagnici U, Erkaya S, Danisman N.Mid-trimester maternal serum and amniotic fluid biomarkers for the prediction of preterm delivery and intrauterine growth retardation.
J Obstet Gynaecol Res. 2014 Jun;40(6):1540-6. doi: 10.1111/jog.12371.
Akturk M, Oruc AS, Danisman N, Erkek S, Buyukkagnici U, Unlu E, Tazebay UH.Na+/I- symporter and type 3 iodothyronine deiodinase gene expression in amniotic membrane and placenta and its relationship to maternal thyroid hormones.
Biol Trace Elem Res. 2013 Sep;154(3):338-44. doi: 10.1007/s12011-013-9748-y. Epub 2013 Jul 16.
Oruç AS, Mert I, Akturk M, Aslan E, Polat B, Buyukkagnıcı U, Danışman N.Ghrelin and motilin levels in hyperemesis gravidarum.
Arch Gynecol Obstet. 2013 Jun;287(6):1087-92. doi: 10.1007/s00404-012-2705-8. Epub 2013 Jan 8.
Mert I, Oruc AS, Yuksel S, Cakar ES, Buyukkagnici U, Karaer A, Danisman N.Role of oxidative stress in preeclampsia and intrauterine growth restriction.
J Obstet Gynaecol Res. 2012 Apr;38(4):658-64. doi: 10.1111/j.1447-0756.2011.01771.x. Epub 2012 Mar 2.
Dilli D, Oğuz SS, Andiran N, Dilmen U, Büyükkağnici U.Serum thyroid hormone levels in preterm infants born before 33 weeks of gestation and association of transient hypothyroxinemia with postnatal characteristics.
J Pediatr Endocrinol Metab. 2010 Sep;23(9):899-912.
Cinkaya A, Keskin HL, Buyukkagnici U, Gungor T, Keskin EA, Avsar AF, Bilge U.Maternal plasma total antioxidant status in preterm labor.
J Obstet Gynaecol Res. 2010 Dec;36(6):1185-8. doi: 10.1111/j.1447-0756.2010.01300.x. Epub 2010 Oct 11.
Akturk M, Altinova A, Mert I, Dincel A, Sargin A, Buyukkagnici U, Arslan M, Danisman N.Asymmetric dimethylarginine concentrations are elevated in women with gestational diabetes.
Endocrine. 2010 Aug;38(1):134-41. doi: 10.1007/s12020-010-9361-1. Epub 2010 Jul 11.
Simsek A, Celen S, Islimye M, Danisman N, Buyukkagnici U.A long-standing incomprehensible matter of obstetrics: meconium-stained amniotic fluid, a new approach to reason.
Arch Gynecol Obstet. 2008 Dec;278(6):559-63. doi: 10.1007/s00404-008-0627-2. Epub 2008 Mar 15.
Bilimsel Faaliyetleri
KONGRE VE SERTİFİKALAR
2002 XXIX. Ulusal Hematoloji Kongresi,
2003 XXX.  Ulusal Hematoloji Kongresi,
2003 III. Ulusal Klinik Biyokimya Kongresi,
2004 18. Ulusal Biyokimya Kongresi,
2005 Otoimmünite ve Otoimmün Hastalıklar Sempozyumu,
2005 Trombotik ve/veya Kanamalı Hastalıklarında Klinik ve Laboratuvar Yaklaşımları Çalıştayı,
2005 I.Ulusal Homocistein ve Adma Sempozyumu ,
2005 Klinik Biyokimya Uzmanları Derneği 3. Ulusal Kongresi,
2007 XV. Congress Of Balkan Clinical Laboratory Federation,
2008 The First İnternational Symposium On Quality & Accredition in Laboratory Medicine,
2015 XXVII. Ulusal Biyokimya Kongresi,
Ödüller
2008 Türkiye Maternal Fetal Tıp ve Perinatoloji Derneği /BİRİNCİLİK ÖDÜLÜ